Kimagure Orange Road
Character Guide
By: George Robbert

Kimagure Orange Road is a romantic comedy centering around three high-school students. Not only does Kasuga Kyousuke have to deal with two attractive women who are interested in him, Ayukawa Madoka and Hiyama Hikaru, but also his family possesses ESP powers, which he must keep hidden. In the show the characters try to figure out their love triangle and grow up in the process. The title means ``Whimsical Orange Road,'' since much of the action occurs around an `Orange Street.' The series is a fun and amusing reminder of those whimsical days in High-School.

The TV series is based on the Manga of the same name by Matsumoto Izumi. Aiding in the adaptation are some wonderful character designs by Takada Akemi. The TV series lasts for 48 episodes and ran for 2 years starting in April 1987. After the show ended, a movie was produced, ``I Want to Return to Those Days.'' This was set after the series as Kyousuke and Madoka are finishing High School. Finally, 8 OAVs have also been produced. Some of these take place during the TV series, while others take place between the end of the series and the movie.
Kasuga Kyousuke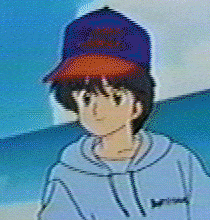 When the series opens, Kyousuke is 15 years old and has just moved to this new town (which is never named). His ESP powers are teleportation, with some telekinesis and telepathy. On his first day in town, he meets Madoka who gives him the red straw hat she was wearing. Later at school he runs into Hikaru (literally) who decides that Kyousuke is her ``darling.'' Kyousuke is beset by indecisiveness, he can't decide between these two women. Even though, in his heart, he knows that he loves Madoka, he doesn't reveal it for fear of hurting Hikaru or being rejected by Madoka since he is usually confused about what her feelings for him actually are.
Ayukawa Madoka
Madoka is the lead female character. She is a quite attractive woman of many talents, and also many mysteries. It turns out that she is in the same class at school as Kyousuke. The first time we see her, she is an attractive, happy and friendly young girl. The second time, we see her playing blues on her saxophone, alone in the music room at school (appropriately, the title of the piece is ``Madoka's Theme: Lonely Concert''). The third time, she easily defeats a group of punks who were attacking Hikaru. It is this last face that she has commonly turned to the world, and it is this face of ``Madoka, the Pick'' that Kyousuke's friends warned him to stay away from. Kyousuke is confused and must figure out which is the ``real'' Madoka.
Throughout most of the series, her parents, who are world famous violinists, are in America. Thus, Madoka lives alone at home. As the series progresses we find out that she is a good musician on saxophone, piano and guitar, a good fighter, who throws a mean guitar-pick, an intelligent student, and other things. In fact, she seems to excel at just about anything except expressing how she really feels.
Hiyama Hikaru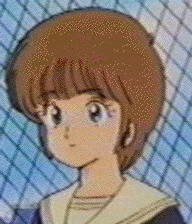 Hikaru is a bright bubbly, somewhat boyish character. She is two years younger than Kyousuke and Madoka, but goes to the same school. In the second episode, Kyousuke runs into her (literally). She thinks that he kissed her, and since she also saw him make an amazing basketball shot (using his power), decides that he is her ``darling.'' Kyousuke doesn't exactly reject her, but thinks of her more as a sister than a girlfriend. However, he draws closer when Madoka is cold to him. To further complicate things, Hikaru and Madoka have grown up together and are best friends. Madoka doesn't want to hurt Hikaru, and doesn't have enough confidence in her own feelings to tell Kyousuke. Kyousuke doesn't want to hurt either of them, plus he really does like Hikaru, just not the way she thinks (and hopes). She also has the incredible talent of showing up whenever Kyousuke and Madoka manage to get some time alone together.
Kasuga Manami and Kasuga Kurumi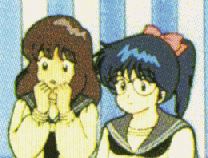 Manami and Kurumi are Kyousuke's younger twin sisters. They are in the same class at school as Hikaru. Both of them are also gifted with ``power''. Kurumi is the most rash about using it, her specialty being telekinesis. In fact, the families last move was precipitated by Kurumi using it to run the 100 meter dash at school in 3 seconds.
Manami, on the other hand, is much more calm and sensible (that is for a young teenager). She keeps house and prepares many of the meals, somewhat taking her dead mothers place. Both girls also have amazing appetites and capacity for food. This surprises several guys who ask them out.
Komatsu Seiji and Hatta Kazuya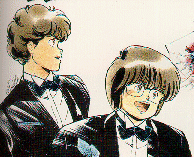 Komatsu and Hatta are also Kyousuke's classmates at school. They both have a common, overriding, interest: girls. These two are even more over-sexed than the typical hormone-laden teenager. Komatsu turns out to be a tall redhead with a large ego, while Hatta is a short, chubby boy with a penchant for nosebleeds and rubber balloons. Komatsu has quite a photo collection and both are budding photographers. To make matters worse, they are interested in Kurumi and Manami, thinking it absolutely great that their friend Kyousuke has two such attractive sisters. However, Kyousuke is not so keen on two guys like this dating his sisters.
Hino Yuusaku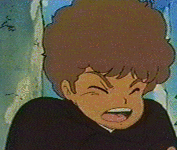 Yuusaku also grew up together with Madoka and Hikaru and is in love with Hikaru. When they were smaller, she told him that she wouldn't be interested in him unless he became stronger and more masculine. Thus Yuusaku trained heavily in martial arts. By the time he achieved proficiency, Kyousuke has arrived on the scene and Hikaru is head-over-heels in love with Kyousuke. He, naturally, regards Kyousuke as a rival in love for Hikaru. Thus, the relationship between Yuusaku and Kyousuke is a bit strained.
Kasuga Takashi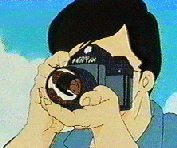 Takashi is Kyousuke, Kurumi and Manami's father and is a photographer by trade. Sadly, his wife, Akemi, died soon after Manami and Kurumi's birth (before the series begins), thus he is raising three children by himself. He has no ESP power, since that came from his wife's side of the family. Due to this he can't be said to be in complete control of his children, but the family manages to get along ok anyhow.
Kasuga Kazuya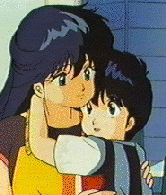 Kazuya is Kyousuke's younger cousin who shows up in the middle of the TV series (episode 24). His special ESP power is the ability to change minds (or bodies, depending upon your viewpoint) with someone else by banging heads with them. He also is good at telepathy. He sometimes uses his powers to try to help Kyousuke in his relationships, but often ends up getting him into more trouble (sometimes intentionally).
Akane

Akane is Kazuya's older sister. She does not appear in the TV series or the movie, but shows up in two of the OAVs. Her power is the ability to look like anyone else. Usually Kyousuke ends up being the victim of these deceptions (of course). To further complicate things Akane likes Madoka, and as more than just a friend.
Master
Master is the owner of the Abcb Coffee Shop. His name is never mentioned; everyone just calls him Master. This is a common title for owners of such establishments, following the British practice of the Master of a pub. For example, the proprietor of the Cha Cha Maru in Maison Ikkoku was also called Master. Madoka has a part-time job at Abcb, and Kyousuke also works there occasionally. Abcb is actually on Orange St., and as the series progresses, becomes a hang-out for the main characters. Since Madoka's parents are away, Master also is an older friend, and to some degree a substitute parent, for Madoka.
Jingoro
Jingoro is the Kasuga's cat: large, white and orange, and, well..., fat. He is Kurumi's favorite and tends to become the victim of her telekinesis throughout the series. He is the star of the commercial break animation, and actually has an episode (#29) revolve around him.
Ushiko and Umao
These are a pair of lovers that put in a cameo appearance in most episodes offering comic relief, poking fun at fatuous romanticism. Their entire dialog, which seems never to vary, is: ``Ushiko-san, wherefore art thou Ushiko-san?'' ``Umao-san, wherefore art thou Umao-san?'' ``Ushiko-san!'' ``Umao-san!'' Although their dialog is the same (from Romeo and Juliet), their situations vary from sitting on a park-bench to swinging from ropes, Tarzan-style.
Ojiichan and Obaachan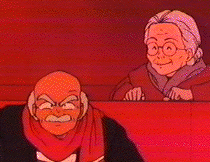 Kyousuke's maternal grandparents show up in a few episodes. They are more used to using ``power'' than Kyousuke or his sisters, since they have been using it for such a long time. They live in the country and occasionally visit. Living so far away from other people, they naturally aren't as careful about hiding their powers, so Kyousuke must continually remind them not to use them in public.
Yukari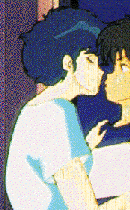 Yukari is the lead singer of a band that occasionally has Madoka play in it. When Madoka first debuted in the band, it was Yukari's job to keep Kyousuke busy so that the show would be a surprise for him. Later on, Kyousuke lands squarely in the middle of her personal life as she is having problems with her boyfriend, Shuuichi Sawada, who leads the band, and incidentally is Madoka's cousin.