Welcome to my Kimagure Orange Road media site. This page is dedicated towards celebrating the various available and upcoming KOR media available, including CD-ROMs, music CD's, and the new KOR movie. But first, let me thank Eric Law and Itono Taisuke, my "correspondents" back in the Far East for their help in creating this page. They have graciously volunteered images, information, and translations for me. Additional thanks to Eric for "recovering" the lost images of KOR. Other people to acknowledge is Charles Kwong and the Madoka Fan Club Additionally, Itono-san has graciously volunteered to answer any KOR movie question you might have. Drop him a mail at taisuke@itono.com. The last important thing is to support the creators. Check out my For Sale Section in my SuperKOR page for some sources I've found where you can buy your very own KOR "gem" to treasure for yourself!

If you're interested in the Shin KOR novels, then please see my dedicated Shin KOR II novel page.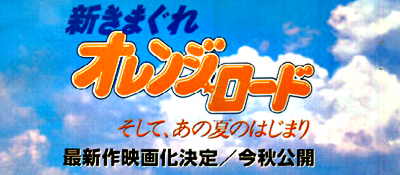 KOR Shin Movie Info (soshite, ano natsu no hajimari)
Now here's some cool infomation on the new movie:
Debuting in Japan on November 2, 1996 in four theaters: (Shinjyuku, Yokohama, Sapporo, Hakata) A select showing will be on Oct 7, 1996.
Distributed by Toei
Directed by Kunihiko Toyama
Character Design by Gotou Takayuki
Script by Terada Takashi
Occurs in 1994 and follows the Manga timeline(I believe) Here, Madoka, Kasuga is 22 years old, and Hikaru is 20 years old.

Who's in the movie?:

Ojiichan and Obachan(in Hawaiian tourist clothes!)
Manami and Kurumi(looking rather plain and dated)
Komatsu and Hatta(as ecchi as they wanna be!)
Kazuya and Akane(not in movie after all!)
Kyosuke and Madoka(is not as "Madoka" as she used to be)
Sugizawa(voice only) and Hikaru(Wow! She's matured a lot!)
Shuri
Preliminary movie soundtrack CD released as a preview and promotion of the upcoming movie. The 2nd CD will be a single of the opening theme to the new KOR movie. The 3rd CD will be the "original sound track" of the movie. The 4th CD is piano pieces performed by Madoka herself.
KOR Movie Soundtrack CD Info

KOR Image Album (CD#1)
Model Number: VPCG-84283
Listed Price: 3000 Yen
Date Released: 7-31-96
Publisher: VAP
Listed Tracks:

01. Our Road
02. Lesson
03. Run Away
04. Where
05. Drive (Carry on)
06. Believe
07. Crossroads
08. Drive ~Carry On Mix
09. The Summer
10. Mind Game

New Kor Movie CD Single (CD #2)
Title:DAY DREAM - Soba ni Iruyo
Model Number: VPDC-20676
Sung by Agua
Date Released: 10-2-96
Publisher: VAP

Listed Tracks:

01. Daydream (Opening Theme)
02. Don't be Afraid
03. Daydream (Original karoke)
04. Don't be Afraid (Original karoke)
KOR Original Movie Soundtrack (CD#3)
Model Number: VPCG-84613
Listed Price: 3000 Yen
Date Released: 10-31-96
Publisher: VAP
Kyouske #1 composed by Yuki Kajiura
Thanks to Eric and Itono for translating most of the track titles for me.

01. Opening Theme (Kyosuke #1)
02. Love I
03. Omoide I (Memory I)
04. Tohou ni kurete (At a loss)
05. Madobe kara (From a window)
06. Doko ni iru-no... (Where you need...)
07. Love is Power
08. Omoide II (Memory II)
09. Lounge I
10. Lounge II
11. Kousa-suru Omoi (Intersecting Hearts)
12. Theme of Kyousuke I
13. Saikai (Meeting again)
14. Insert theme "Don't be afraid"
15. Isekai eno Tobira (Door to another world)
16. Anata ni koko ni ite-hoshii (What do you want at your place?;Kyosuke #1)
17. Theme of Kyousuke II
18. Love II
19. Yorisou Futari (Being Close Together)
20. Ima, soshite Korekara (Now, start from here to the future)
21. Main theme "Day Dream ~ always at your side"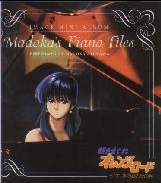 Madoka's Piano Files (CD#4)
Model Number: VPCG-84614
Listed Price: 2500 Yen
Date Released: 12-1-96
Publisher: VAP
Number of Tracks: 7 (23 minutes total)
Info courtesy of Itono Taisuke
Here is the EX Review
Listed Tracks:

01. Summertime
02. With You I
03. ?
04. Emotion
05. Missing
06. Film
07. With You II
KOR Movie Books and Video/LD Info

Animated Comic of New KOR Movie
ISBN #: 4-8342-1522-9
Publisher: Jump Comics
Price: 1000 yen
Shin KOR III Novel: Madoka's Secret Memory and Tenshi no Abunai Hohoemi (Angel's voluptuous smile)
Release Date: April 23, 1997
Publisher: Shueisha
Series Title: Jump J Books
ISBN #: 4-08-703057-1 C0093
Price: 780 Yen
223 pages
Teaser: A ghost spirit lurks in the background. Does Madoka know this ghost? And if so, can an ESPer be a rival of the ghost in love?
Info courtesy of Itono Taisuke

Shin KOR 2002
Release Date: Dec 21, 2001
Publisher: Shueisha
ISBN #: 4-08-630064-8
Price: 495 Yen
222 pages
This book is written by Keishi Terada who wrote the earlier Shin KOR Novels 1-3. I will update when I get more details on it.
New KOR Movie Video (For Rental Only)
Model Number: TA4808R
Publisher: Toho
Release Date: Feb 14, 1997
Info courtesy of Itono Taisuke
New KOR Movie Video
Model Number: TA4808S
Publisher: Toho
Release Date: May 1, 1997
Info courtesy of Itono Taisuke
Special Collector's Edition: Vocal Collection/LD Shin Movie
Model Number: VPLV-70628
Listed Price: 13,184 Yen
Release Date: March 20, 1997
Publisher: VAP
Contents: 1 CD and 1 double-faced CLV LD of the new KOR movie.
Info courtesy of Itono Taisuke
Comic On
"Comic On" is original manga material based exclusively on the CD-ROM format. It's chief contributor is of course Izumi Matsumoto, the creator of KOR. What's very exciting about this effort is that Matsumoto-san is releasing new KOR stories for each new volume. In addition, there are other manga graphical stories to peruse through. For more info on pricing and availablity, please click the picture above to enter the Comic On Genesis homepage for more details.
Volume 1 released February 7, 1996 Toshiba EMI TORT-3004
Volume 2 released November 27, 1996 Toshiba EMI TORT=3009

Volume 3 released February 28, 1997

Will include T. Furuya's interview with Matsumoto Izumi!

Volume 4 released May 28, 1997

Will include T. Furuya's interview with Yuko Miyamura (the voice of Asuka of Evangelion!)
T. Furuya also will become official interviewer for future Comic On releases

Volume 5 released October 29, 1997

Will include KOR 'AFUREKO' (recording voice over motion picture)
Will include interview with Hiromi Tsuru (voice of Madoka)!

Comic on Vol.1 & 2 will be put on sale in Taiwan in April , with comic "Kappa to the teacher". (All of them is translated into Chinese(?).)

"Sesame Street" (comic by M.Izumi) Vol.2 was republished on March 23 , and vol.3 will be issued on April 19.

Comic on Digital Characters CDROM issued July 25, 1997

"EE" was a new manga being worked on by Izumi Matsumoto in the same spirit as Silent Mobieus. It is more science fiction oriented taking place in the far off future. It is currently being published in Ultra Jump. Unfortunately, it was canceled by the publisher only after 4 issues.

All advance information courtesy of Itono Taisuke

Madoka
by Akemi Takada
ISBN Number: 4048532944
Release Date: 03/01/01
Price: 4800 Yen
22 x 18 cm
These are the set of pictures of Madoka and other KOR characters drawn by Akemi Takda, of which many were contained in the illegal KOR Triangle Book.

Grathic Anthology
by Matsumoto Izumi
ISBN Number: 4087826597
Release Date: 06/01/01
Price: 3800 Yen
8.5 " by 12"
101 pages
1 Win/MAC CDROM
Contains color illustrations by Matsumoto on KOR, Sesame Street, EE and other various short stories he has drawn.
Digital Short Contents
by Matsumoto Izumi
ISBN Number: 4088591887
Release Date: 06/01/01
Price: 857 Yen
8.5" by 6"
112 pages
Full color print reproduction of Matsumoto's digital manga featured in his Comic On CDROMs, including the KOR bathhouse story.

New Kimagure Orange Road: Summer's Beginning DVD
Published by ADV
Release Date: 08/21/01
Runtime: 100 minutes
This is the region 1 DVD version of the Shin KOR Movie! As far as I know it has a dubbed English and subtitled versions on it.
And Now a Special Treat... (Thanks to Itono-san for the translation!)

From the days I spent with a passion
I was flicked into the interstice between two times

I in the future for me in the past and
I from the past for me in the future
intersect each other in a valley of time-space.

Delicate triangle of pleasant unbalance
had come to pieces,
and you are getting distant from me again.

the summer had begun

The Best of the Rest!
(Or the Mystery of the Lost Inserts...)
Here listed is a one-of-a kind collection of scans from the covers of cassette insert cards and CDV's. Briefly produced in 1988, these products have never been reissued since then. That means you can't buy it from the stores today! Long forgotten and seen by only a handful, it has become a lost treasure. Until now. Donning my Indiana Jones hat and cracking my whip, I waded through net swamps and web jungles, and with the help of my trusty sidekick, Sir Eric, we've finally unearthed these lost relics. And here it is. The lost collection for your viewing pleasure. Thanks Eric! (Note: I only have listed the scans which have never been seen before on the net!)

Return back into My Kimagure Orange Road (KOR) Paradise
Last Modified: January 2, 2002